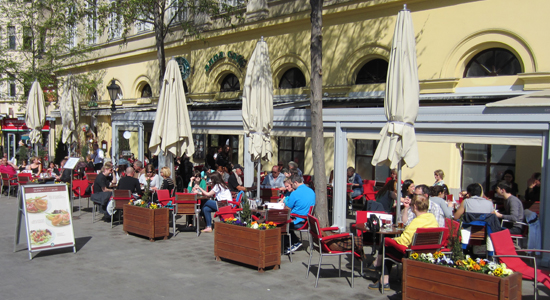 Approach
Address: 1052 Budapest, Fővám tér 6.
Opening hours
Please note that our store will be closed for renovations from February 21 to March 16, 2023.
A nyitva tartás 04.24-től érvényes, a változtatás jogát fenntartjuk!
Érdeklődj a +36 1 266 2820 -es telefonszámon!
Contact
Phone: +36 1 266 2820
Fővám Square
Fővám Square is one of the most frequented places in Budapest. In the time of Mathias, the city wall and the Belgrád Gate used to be here, through which one could get into Pest. The ring of centuries-old buildings is still a characteristic of the square, accompanied by the beautiful scenery. Sitting at the enormous terrace, one can observe the sun setting behind the Gellért Hill. On the side, the crowd of merchants and buyers can be seen around the Great Market Hall, and the recently renovated Liberty Bridge is in sight. The square can be approached using different ways of transportation, and thus it serves as the perfect starting point for a sightseeing tour, after having a morning coffee. We offer the traditional Hungarian pastries and desserts, but if you are only looking for a fresh salad, a glass of wine or cocktail, you will find it here.