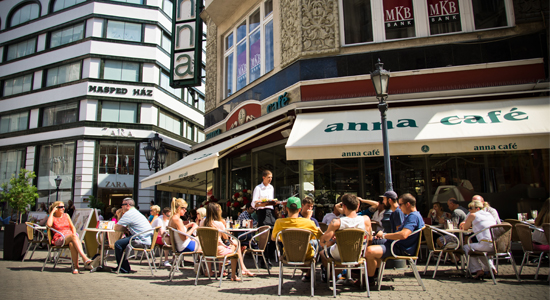 Approach
Address: 1052 Budapest, Váci utca 5.
Opening hours
Please note that our store is be closed for renovations from January 29 to March 1, 2023.
A nyitva tartás 08.08-tól érvényes, a változtatás jogát fenntartjuk!
Érdeklődj a +36 1 266 9080 -es telefonszámon!
Contact
Phone: +36 1 266 9080
Váci Street
The road going north from Pest used to be guarded by the Váci Gate. This used to be the way to Vác, hence the name of the Váci Street. The street in the middle of the city is one of the most important tourist hubs today, near the riverbank of the old Danube. Anna Café is situated in the middle of the buzzy street. The famous cafeteria offers a wide variety of traditional Hungarian cakes, desserts, salads, sandwiches, cocktails and quality vines, all in a modern fashion.
Come and visit us!